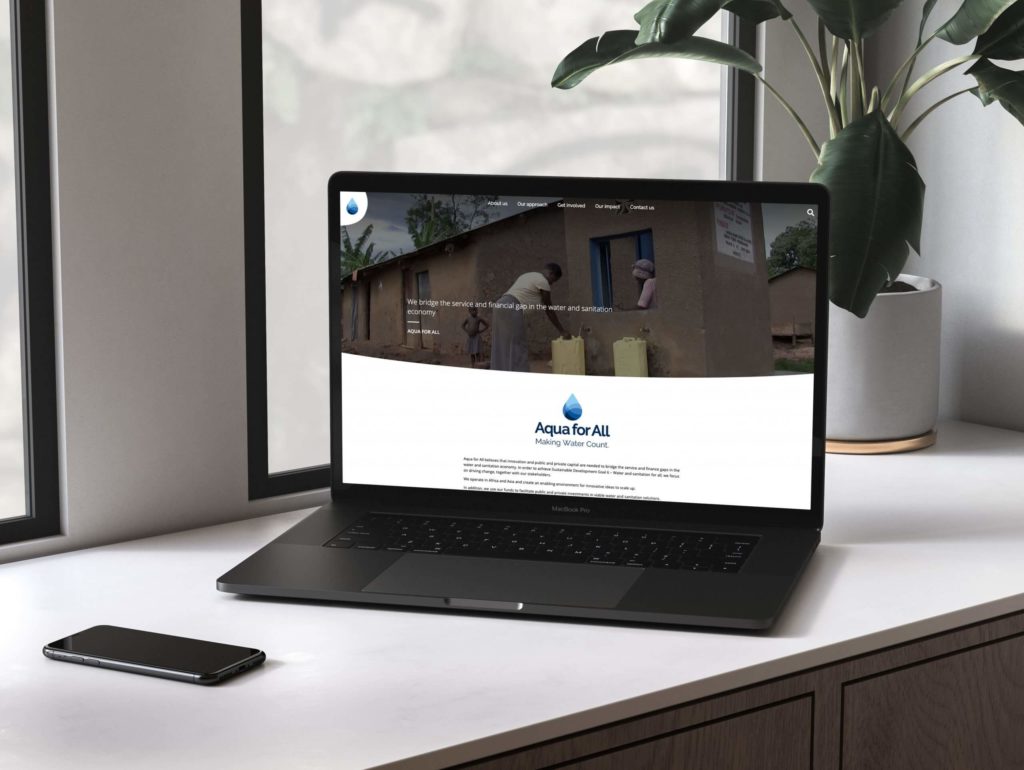 Release website Aqua for All
16 april 2020
Eind vorig jaar benaderde Aqua for all ons voor een nieuwe website. Aqua for all is een organisatie die zich inzet om schoon drinkwater en sanitair voor iedereen te regelen over de gehele wereld. Dit doen ze door ondernemers en investeerders aan elkaar te koppelen, zodat zij mooie initiatieven kunnen starten. De website van Aqua for all was met de tijd wat verouderd. Daarnaast hadden zij de wens om de website zelf makkelijker te kunnen bewerken. Wij hebben op basis van een nieuwe huisstijl de website weer een nieuwe boost gegeven. De nieuwe frisse uitstraling past helemaal bij het mooie werk wat de organisatie doet.
NIEUW JASJE
De website van Aqua For All was verouderd. Wanneer de website verouderd dan riskeer je dat een website gemakkelijk gehackt kan worden of dat deze stuk gaat. Daarnaast kan ook het ontwerp niet meer passen bij de huidige trends en daardoor minder aantrekkelijk gevonden worden door gebruikers. Wij hebben de website daarom in een nieuw aantrekkelijker jasje gestoken en de techniek erachter verbeterd. Zo hebben wij een video in de header geplaatst, welke direct inspeelt op het gevoel dat een bezoeker krijgt bij het merk Aqua For All. Daarnaast hebben wij op de homepagina er ook voor gekozen om de aandacht te richten op de lopende initiatieven en de mensen achter Aqua For All.
---
Wil je weten of je website verouderd is?
Lees hier ons artikel daarover.
---
Daarnaast had Aqua For All niet de mogelijkheid om de content binnen hun website makkelijk te bewerken. Dit kwam door de opbouw van de achterkant van de website. Bij Eenvoud ontwikkelen wij website's met een eigen Page Builder waar je, door middel van zogenaamde Custom Blokken, gemakkelijk en snel een pagina kan opmaken of bewerken. Ons systeem is erg flexibel, waardoor je als klant veel vrijheid hebt. Ook het toevoegen van extra blokken is bij ons geen probleem.
TWEEDELING
Een ander belangrijk onderdeel voor het verbeteren van de website was de twee-deling die Aqua For All graag in hun website wilde realiseren. Zij beheert namelijk twee doelgroepen:
Ondernemers die graag een project willen starten
Investeerders die graag een project willen financieren
Beide doelgroepen dienen anders aangesproken te worden. Niet alleen op het gebied van content, maar ook de bereikbaarheid van bepaalde pagina's diende in een goede structuur te worden aangelegd. Dit was een punt waar wij voorafgaand aan het ontwerp rekening mee moesten houden.
RESULTAAT
Benieuwd naar het resultaat? Bekijk de website hier.
---
Wil jij dat er ook eens een expert kijkt
naar of je website verouderd is? Of heb je nog geen website en wil je er een?
Stuur ons dan een bericht