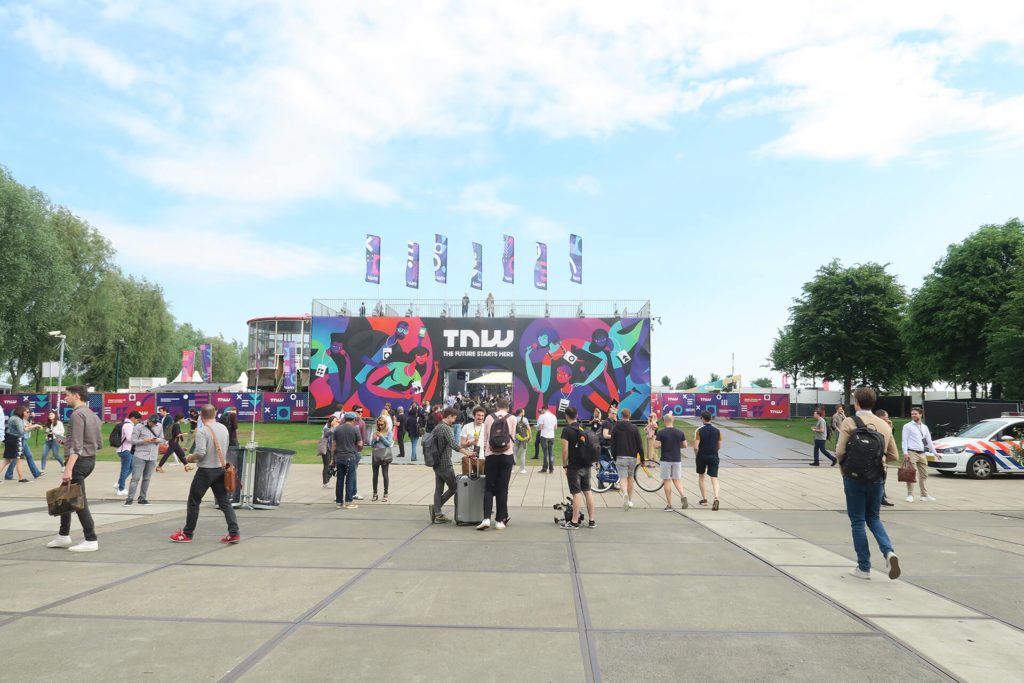 The Next Web Conference & Tech trends
5 juli 2018
The next wat? The next web! The Next Web Conference is een tech festival, dat plaats vindt in het Westerpark in Amsterdam. Het festival duurt twee dagen en er komen sprekers van grote bedrijven als Google, Microsoft en Reddit. Zij delen inzichten, interessante ontwikkelingen of inspiratie. Het hele festival draait om de toekomst van technologie. In de afgelopen jaren is het festival gegroeid van een klein evenement met 200 personen naar een van de grootste tech festivals met ongeveer 15.000 bezoekers! Samen met Kübra en Selma bezocht ik dit jaar het festival. Het waren twee zonnige dagen met veel netwerken, nieuwe inspiratie en stof tot nadenken. Tijdens deze editie kwamen onder andere design thinking, blockchain en artificial intelligence aan bod.
Zie hier de aftermovie van het evenement, zodat je de sfeer kunt proeven.

TECHNOLOGIE EN TRENDS
Tijdens het evenement werden er meer dan 100 talks gegeven. Veel mogelijkheid dus om informatie te vergaren! Ik ging naar de talks die met design te maken hadden, veelal gegeven in het "transformatorhuis", een van de locaties. Ik zette een aantal interessante onderwerpen voor je op een rijtje.
Hoe herken je blijvende technologie trends?
David Mattin van Trendwachting.com gaf een interessante talk over welke methodologie je kunt gebruiken om nieuwe trends te herkennen. Niet de trends zoals fidgetspinners of welke technologie hip is. Nee, consumertrends, zoals hij dat zo mooi noemt. Trends die meer vertellen over de mindset, het gedrag en de verwachtingen van onze gebruikers. En dat wil je graag weten, want als je hiervan op de hoogte bent kan je ook goed voorspellen wat gebruikers in de toekomst willen.
"We don't ask consumers anything" – David Mattin
Hoe herken je nou zo'n trend? Volgens David doen we een ding fout en dat is dat we naar het verkeerde kijken. Steeds meer bedrijven werken volgens de design thinking methode, waardoor we ons focussen op de gebruiker met zijn of haar behoeften. We stellen vragen en gaan aan de hand van feedback verder met wat wij denken dat het probleem is. Volgens hem moeten we niet naar de gebruiker kijken om trends te herkennen, maar naar de nieuwe ontwikkelingen. Door te kijken naar producten die op de markt komen en proberen te begrijpen waarom deze producten zo goed werken.
"New trends emerge when some change in the world unlocks a new way of serving a human need" – David mattin
Nieuwe trends ontstaan namelijk doordat er verandering is in de wereld. Die verandering zorgt ervoor dat we nieuwe behoeften krijgen. Op die nieuwe behoeften kan je als bedrijf inspelen en ervoor zorgen dat jouw product waardevol is.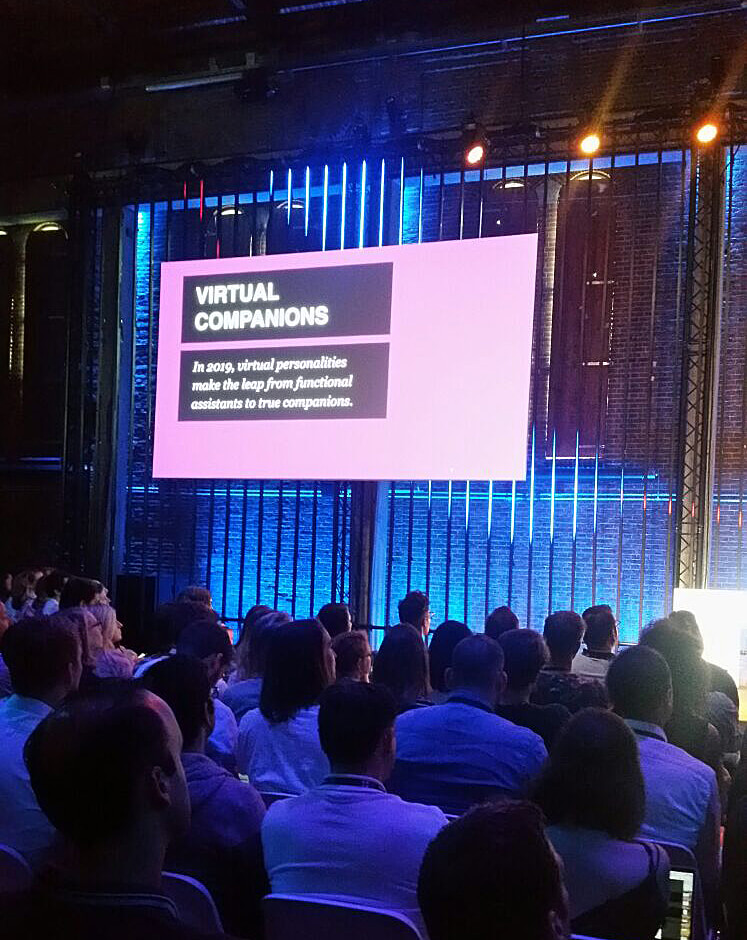 Artificial Intelligence en onze relatie met technologie
In diezelfde talk van David Mattin voorspelde hij een nieuwe trend. Namelijk virtual companions. Het hebben van diepere gesprekken met AI, in plaats van alleen functioneel. Onze relatie met technologie verandert en wordt dus intiemer. Niet alleen David maar ook Purna Virji van Microsoft en een aantal andere sprekers verwachten dat onze relatie met technologie verandert. Lees meer over AI en de toekomst.
Van Design thinking naar design gebaseerde bedrijven
Naast Artificial Intelligence is design thinking een van de veel besproken onderwerpen onder sprekers. Veel grote bedrijven maken een switch van de oude werkmethode naar design thinking. Sommige bedrijven maken zelfs de stap om alles om te gooien en design thinking als basis te gebruiken. Ook wel "design-led companies" genoemd. Hiermee wordt niet bedoelt dat ze zich steeds meer focussen op visuele diensten en producten. Juist niet! De focus ligt meer op de gebruiker en wat zijn of haar behoeften en wensen zijn.
Ook het werken in multidisciplinaire teams is erg in opkomst en eigenlijk vind ik dit ook heel logisch. Een front-end developer kijkt bijvoorbeeld heel anders naar een probleem dan een designer. Zo krijg je meerdere invalshoeken, waarmee je complexe problemen beter kan aanvliegen. Lees meer over design thinking.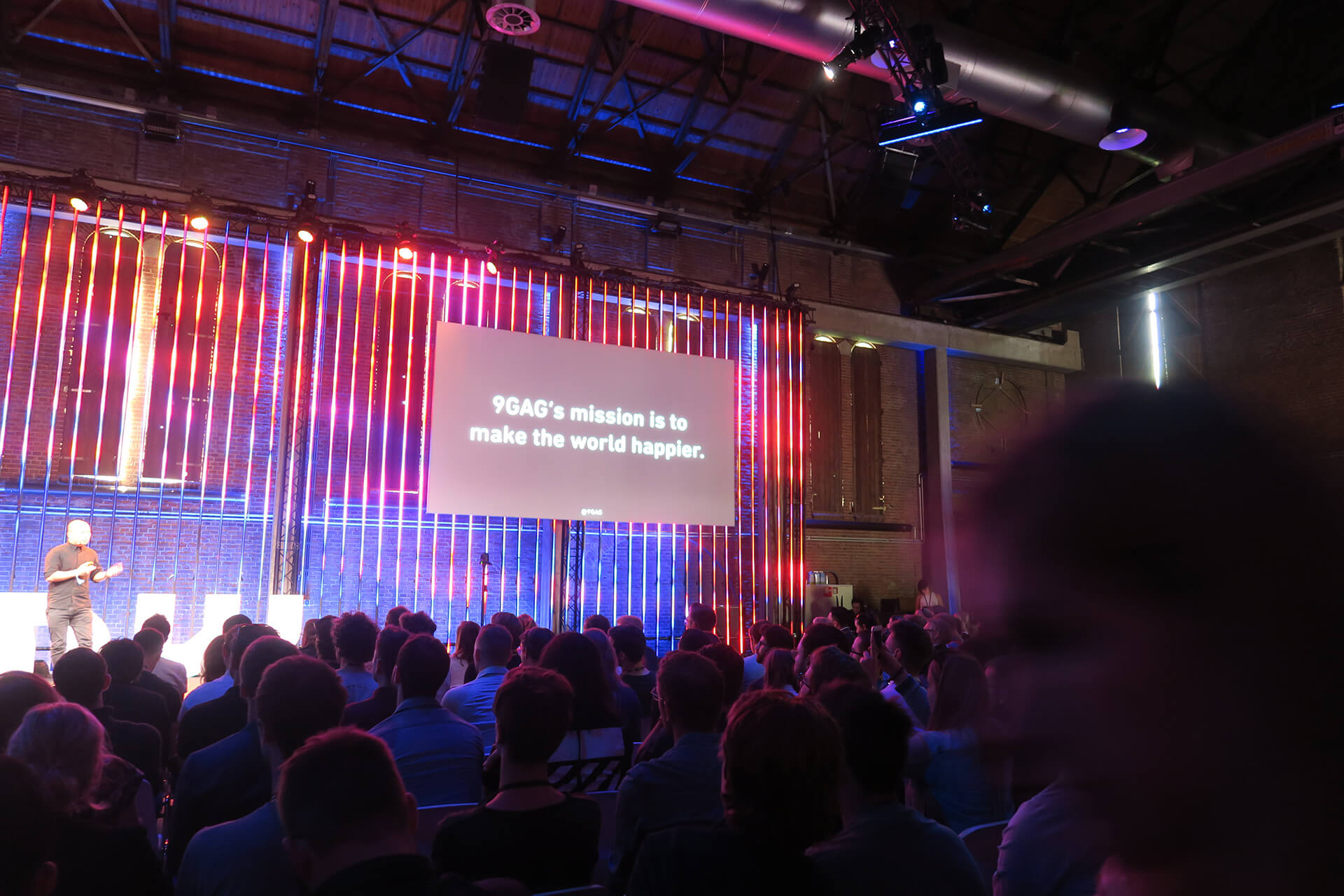 Doing good
Misschien merkte je het al aan de vorige trends. Tegenwoordig is het steeds belangrijker om te kijken naar de impact die je maakt als bedrijf. Ontwerp je jouw product en dienst om er mee te verkopen of los je ook echt een probleem op voor mensen? Is het product wat je maakt wel ethisch verantwoord? De design thinking methode past hier perfect in het plaatje, waarmee gekeken wordt naar de echte problemen van de gebruiker of klant. We zien steeds meer initiatieven die op maatschappelijke problemen of basisbehoeften van mensen gefocust zijn. Bedrijven die meerwaarde willen leveren voor onze samenleving in plaats van gewoon geld te verdienen. Ik denk dat we hier heel blij mee moeten zijn, want makkelijker en fijner leven. Dat willen we allemaal toch?
Dit artikel is geschreven door Suzanne Klooster